El Capitan
info

Get it:
Downloads Pricing
Upgrades

Learn about it:
Features
What's new?
Scenarios

Component products:
Book
Firewall
Advisor
Blog
Twitter

Introducing...
The DoorStop X Security Suite
Learn. Protect. Understand.
The DoorStop X Security Suite is an integrated, comprehensive approach to securing your Macintosh (and iPhone!) on the Internet. It helps you learn about, protect and understand your Mac's many Internet features and areas of concern. Updated for Lion (Mac OS X 10.7) and Mountain Lion (Mac OS X 10.8). Continues to run on Mavericks (10.9), Yosemite (10.10) and El Capitan (10.11).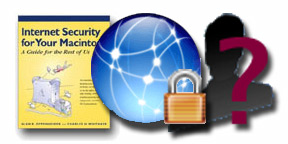 Download now
Learn. The eBook edition of "Internet Security for Your Macintosh and iPhone" is accessible from all products in the Suite. Whether you read it section-by-section or look up information on specific services or access attempts as you encounter them, the book helps you to achieve an invaluable knowledge of Internet security concepts and issues. The book's associated blog, ISFYM.COM, and Twitter stream keep you up to date with new issues as they develop and its Top 10 list provides a set of simple things you can do to better protect yourself on the Internet.
Protect. Open Door's flagship DoorStop X Firewall builds on our decade's worth of experience with Macintosh security products to provide you with an easy-to-use, reliable application that protects your Mac from outside attack. At the same time, through its integration with other Suite products, the DoorStop X Firewall also helps you to learn about and understand both the details and the broader context involved. Now version 2.4, with Lion and Mountain Lion support.
Understand. The Who's There? Firewall Advisor goes beyond protecting your Mac to helping you understand and react to security "events" as they occur. By working with both the book and the firewall, Who's There? ties together the Suite products into an integrated whole, worth even more than the sum of its parts.
| | | |
| --- | --- | --- |
| | | "... a best-of-breed program... an excellent way to secure your Mac--and learn valuable information at the same time." Macworld magazine, March 2007 |